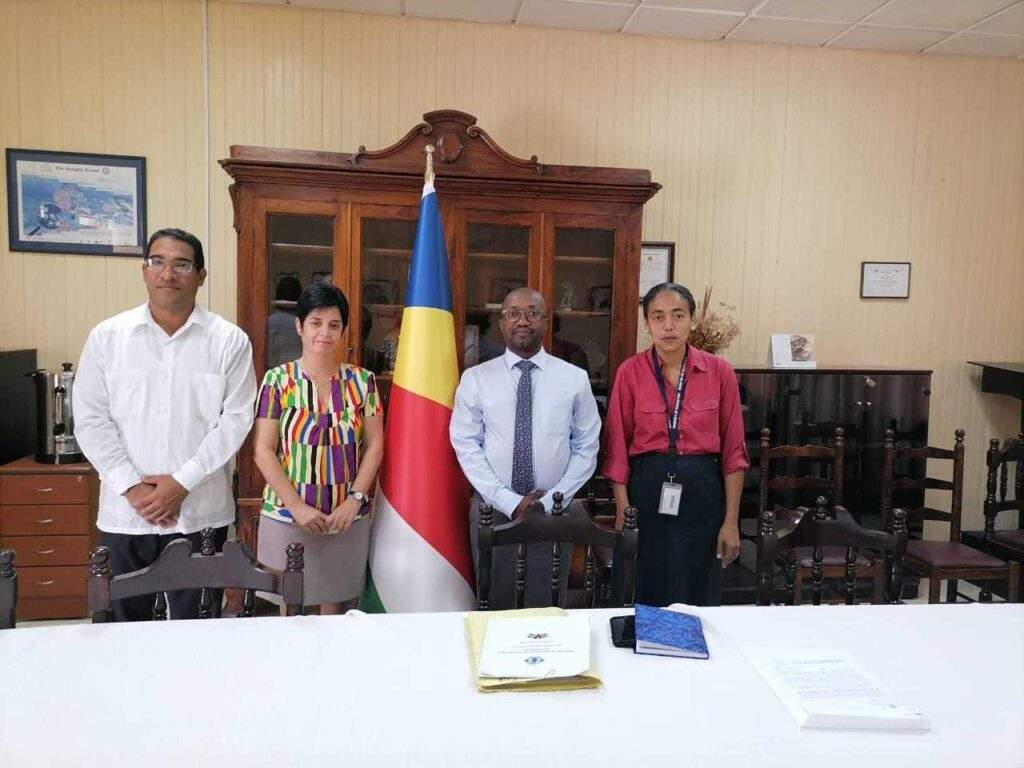 The Ambassador of the Republic of Cuba to the Republic of Seychelles, H.E. Mrs. Martha Hernández Caneiro, had a meeting with the Minister for Education Dr Justin Valentin, on Monday 25th July 2022. Also present at the meeting were the Minister's Councilor, Mr Tomas Mendez Parra from the Embassy of the Republic of Cuba and the Chief Liaison Officer, Mrs. Vicky Michel (Gendron) from the Network and Engagement Division of the Ministry of Education.
Discussions centered on scholarship, training for Physical Education teachers, cooperation in higher education, Spanish language courses and the International Congress on Education in 2024. Firstly, the Ambassador of the Republic of Cuba to the Republic of Seychelles, H.E. Mrs. Martha Hernández Caneiro stated that there are currently 10 Seychellois students in Cuba. Two students are on Cuban Government scholarship and 8 students on Seychellois Government scholarship. She informed that Cuba is offering Seychelles another scholarship in medicine for 2023 and that the course will start in February 2023. The Minister expressed that the offer has been advertised and a candidate will be submitted soon.
With regards to training for Physical Education teachers, the Ambassador expressed that Seychelles need to decide whether to get one Cuban teacher to come to Seychelles to train more Physical Education (PE) teachers or to train one Seychelles P.E teacher, who will later on train other teachers. The Minister was in favour of the latter.
Furthermore, Minister Valentin pointed out that one area of interest to Seychelles would be to receive one lecturer from Cuba to teach Spanish in our schools, hence as a result, raise students' aspiration to train in Cuba in the future.
Another potential area of cooperation discussed was an exchange programme between the University of Seychelles and other Universities in Cuba. A meeting with the Vice Chancellor would be organised as soon as possible, to take the discussion further.
The Ambassador also flagged the forthcoming International Congress on Education scheduled in 2024, to which she extended an invitation to the Minister for Education.